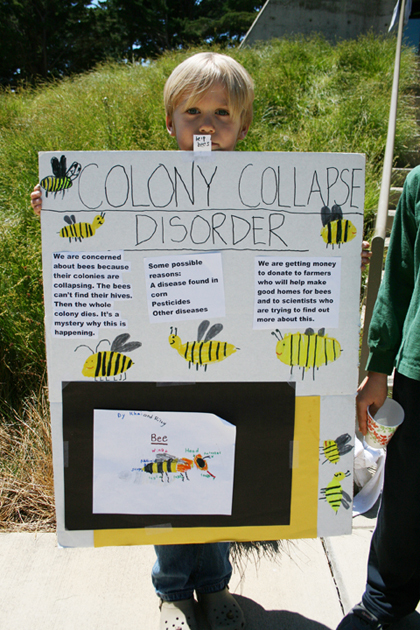 Henry holds a poster during the fundraising event.
News
Saving the Bees: A Heartfelt Contribution to the UC Davis Bee Research Program

June 1, 2012
DAVIS--Honey bee researchers at the University of California, Davis, have received an unexpected and heartfelt financial contribution from a first-grade class at Nueva School, Hillsborough, Calif.
After learning about the declining bee population, the students in Rebecca Newsom's class set out to help the honey bees by making bee-themed items, selling them at a fundraiser, and netting $214 for the bee research at the Harry H. Laidlaw Jr. Honey Bee Research Facility, UC Davis.
The students "became advocates for honey bees this spring after embarking on an in-depth study of bees and their needs," the teacher wrote in a recent letter to Michael Parrella, professor and chair of the UC Davis Department of Entomology. "When they learned about colony collapse disorder (through the SeriousEats video), they immediately became impassioned 'to speak for the bees.'"

The students "organized the sale, created signs and attracted customers with their excitement," Newsom wrote.
"What struck us the most, as teachers, was that their main mission was to educate others, not just make money," she noted. "They decided we should give away bee facts for free 'so people could learn about why bees are in trouble.'
The students also made a movie and presented it at the all-school assembly. And, on the last day of school, "many of them gave us (teachers) bee-themed cards and gifts," Newsom wrote, adding that "we are blessed at our school to be able to teach children in ways that are most meaningful. This group of first graders will carry these lessons with them out into the wider world. Take comfort in knowing you have a young set of advocates spreading the word throughout the Bay Area."
In a letter addressed to "Dear Honey Bee Researchers," the students wrote about how they sold bee finger puppets, honey lemonade, bee pictures and mazes, clay bees and flowers and tissue paper flowers.

They closed with "We raised $214! We are excited to donate this to you. We can't wait to help bees. WE LOVE BEES! WE REALLY CARE ABOUT THEM."
"We really appreciate their thoughtfulness, generosity and concern," Parrella said. "Through their concern, they are spreading public awareness about the plight of honey bees."
The San Mateo County school, a widely recognized leader in the field of education for the gifted and talented children, received the U.S. Department of Education Blue Ribbon School award in 1987, 1996, and 2010. Its biannual Innovative Learning Conference draws a global audience of more than a thousand teachers, administrators, researchers, speakers, and parents.