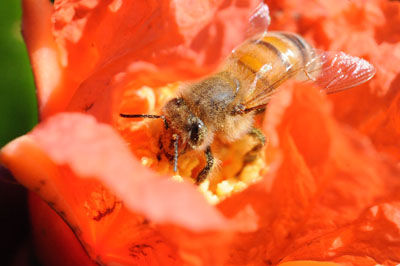 Bee on pomegranate blossom. (Photo by Kathy Keatley Garvey)
Pollination

Pollination is a core area of research at the UC Davis Bee Biology Lab. Ongoing projects focus on the pollination of crops and native plants in managed and wild ecosystems. In the realm of agriculture a central goal is to understand factors that increase pollination success and yield, as well as long-term stability of pollination service.
We are committed to providing practical information and solutions by partnering with growers. We also are investigating the importance of pollinator diversity, farm management and landscape structure for reliable production in diverse systems ranging from small market gardens to large commercial farms. Projects include:
The effect of on-farm flower mixes for enhancing pollination. The focus thus far is on melon (Neal Williams)
Investigation of the factors negatively impacting onion seed production in the central valley. (Lora Morandin, Neal Williams and Rachael Long. Plant Sciences-UC Davis)
In addition to applied questions, our research explores topics in basic pollination ecology such as variation in pollen-transfer dynamics among different insect species. At a broader scale, we are also investigating the effect of landscape change (suburban development) on the pollination of native spring ephemeral plants.