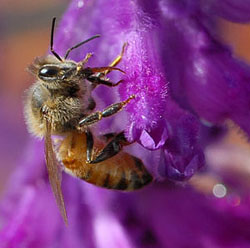 Honey bee on salvia. (Photo by Kathy Keatley Garvey)
Outreach
Some of our outreach projects:
Donors
They made it all possible. Donors to the Häagen-Dazs Honey Bee Haven.

Save the Honey Bees
A link for online donations to the Honey Bee Research Fund
Gifts to the Honeybee Research Fund will be used for ongoing research, education and outreach efforts in the areas of honeybee biology, health and pollination services. Or contact Martha Ozonoff, Development Officer, College of Agricultural and Environmental Sciences, at mjozonoff@ucdavis.edu or (530) 753-1504.
Poem Donation
A poem in appreciation of the bees by Michele Krueger

Contact Person
Martha Ozonoff
Development Officer
College of Agricultural and Environmental Sciences
mjozonoff@ucdavis.edu
Office: (530) 752-1504