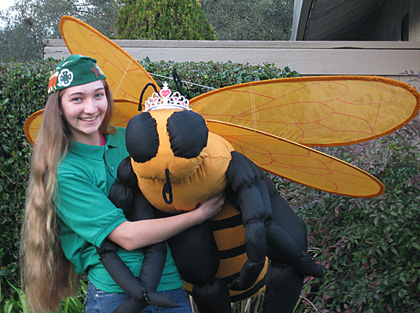 Rachel Ricchiuto of Gold River. Calif., holds a scarecrow, Honey Bee, that she and her Junior Master Gardening project created and entered in the Sacramento County Fair. It won first place and a Fair Manager's Award. She is the 2011 winner of the National 4-H Beekeeping Essay Contest.
News
California 4-H'er Rachel Ricchiuto Wins National 4-H Beekeeping Essay Contest

A 14-year-old Sacramento County 4-H'er who quizzed 25 4-H members, friends and their families on their honey preference and then penned an essay about the results, is the winner of both the California State 4-H and the National 4-H Beekeeping Essay Contests.
Ninth grader Rachel Ricchiuto of Gold River, a nine-year member of the Sacramento County Country Centre 4-H Club, titled her 955-word essay, "The Buzz on Honey." She received $750 as her national prize.
All 4-H'ers—no beekeeping experience required--are eligible to enter the contest in their state. Each state winner then advances to the national competition. The 2011 theme: "U.S. Honey: A Taste for Every Preference."
Although Ricchiuto does not keep honey bees, she is involved in the Junior Master Gardening Project, a national youth gardening program of University Extension. This is her seventh year in the project, and her fourth year as a teen leader. She was also the 2010 California winner.
Extension apiculturist Eric Mussen of the UC Davis Department of Entomology, who chaired the statewide essay contest, described her essay as "very creative and comprehensive."
"Rachel conducted a good deal of background research, ran a little test and wrote about all of it in a very compelling manner," Mussen said.
In her essay, Ricchiuto noted that there are more than 300 unique kinds of honey in the United States. "A honey's color and taste," she wrote, "varies depending on what type of nectar has been collected."
She theorized that most people prefer clover honey so she decided to see if her panel, ranging in age from seven to adults, preferred it also.
Her panel scored five different liquid honeys—clover, orange blossom, sage, buckwheat and eucalyptus—on color, smell and taste. She covered the labels "so people wouldn't be influenced by the name of the honey's nectar source."
"I found that some people rated a honey high in color and smell, but when they actually tasted it, they didn't like the flavor very much," Ricchiuto wrote.
To her surprise, her panel preferred sage, but clover trailed a close second, followed by orange blossom, buckwheat and eucalyptus.
"I think sometimes the nectar source or color of a honey deters people from trying a new variety; they just stick with what they know."
In her research, Ricchiuto learned that buckwheat honey is a good cough suppressant. Research published in The Archives of Adolescent and Pediatric Medicine showed that it "does a better job of reducing nighttime coughing than dextromethorphan (DM), a cough suppressant found in many over the counter medications," she wrote. "After learning this, I will never have to take that yucky cough syrup again.
Honey is also "the perfect ingredient to have in your cupboard for cooking and baking; it does not need to be refrigerated and has an exceptionally long shelf life," Ricchiuto related. "Choose your honey by taste when you are cooking so that it compliments your food.
For example, buckwheat honey is good on pancakes; fireweed and orange blossom honeys on desserts; and clover and wildflower honeys "are both good in salad dressings and as an everyday table honey to put on toast or in tea.
Her family's preference? Raw local wildflower honey.
The annual contest is sponsored by the Foundation for the Preservation of Honey Bees, headquartered in Jesup, Ga. The charitable research and education foundation lists its mission as preserving and protecting honey bees "to ensure a quality food supply and environment."