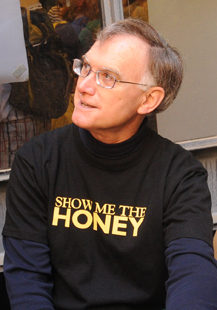 Eric Mussen in "Show Me the Honey" shirt. (Photo by Kathy Keatley Garvey)
News
Show Me the Honey? No, Taste the Honey!

DAVIS--It's not "show me the honey!"—it's "taste the honey!"
Honey bee guru Eric Mussen, Extension apiculturist with the UC Davis Department of Entomology, will share six varieties at the honey tasting event on Saturday, April 21 during the campuswide 98th annual UC Davis Picnic Day.
Visitors can sample California buckwheat, avocado, Eucalyptus, sage, orange, and cactus from 10 a.m. to 3 p.m. in the Briggs Hall courtyard. Some 25,000 toothpicks will be provided.
Mussen has been staffing the honey-tasting table every year at the UC Davis Picnic Day since 1980. This year, due to popular demand, the department will add another table.
Mussen, with the UC Davis Department of Entomology since 1976, also will answer questions about honey and honey bees. This year's honey is from Bennett's Honey Farm in Ventura County.
The event, free and open to the public, is part of the entomological activities that will take place at two locations: Briggs Hall, off Kleiber Hall Drive, and the Bohart Museum of Entomology, 1124 Academic Surge on California Drive.
The scores of activities at Briggs Hall will include Maggot Art, cockroach races and termite trails. The Bohart Museum is the home of more than seven million specimens and a live "petting zoo," which includes Madagascar hissing cockroaches and walking sticks. The museum's Picnic Day theme is "Insects Are Forever."
More information is at http://entomology.ucdavis.edu/news/picnicday2012.html.