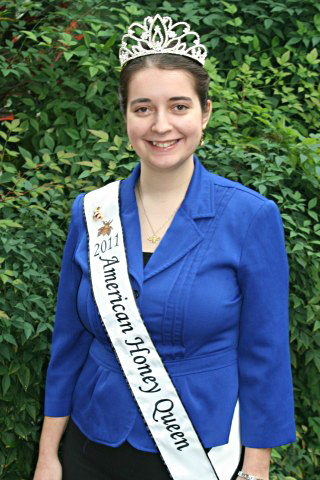 Teresa Bryson. the American Honey Bee Queen, will be at the California State Fair, July 16 to 21.
News
American Honey Bee Queen at California State Fair
It's a honey of a job.
American Honey Bee Queen Teresa Bryson, 19, of Chambersburg, Pa., will be helping spread the word about beekeeping and honey at the California State Fair, located at 1600 Exposition Blvd. Sacramento. The fair opened July 14 and continues through July 31.
As the guest of veteran beekeeper Brian Fishback of Wilton, past president of the Sacramento Area Beekeepers' Association and a member of the California State Beekeepers' Association (CSBA), Bryson will be helping out at the CSBA booth July 16 to 21. The booth is located in the California Foodstyle building. Fairgoers can ask questions about the bees and sample honey.
She also will be working in the insect pavilion at "The Farm," which includes an observation hive. Bryson will answer questions from the public on Saturday, July 16 from 2 to 3 p.m. and on Wednesday, July 20 from 3:15 to 4:30 p.m.
In addition, she'll be speaking at the Sacramento Area Beekeepers' Association meeting set for 7 p.m. Tuesday, July 19 at 4049 Marconi Ave., Sacramento. The site is located in the second module behind the Town and Country Lutheran Church.
The American Honey Queen is sponsored by the American Beekeeping Federation.
"As the American Honey Bee Queen, I travel across the United states promoting beekeeping and the use of honey," Bryson said. She educates the public with "facts on the beekeeping and honey industry concerning pollination of our nation's crops and how dependent we are on the honey bee for agriculture, how honey is a healthy substitute for sugar, and how honey also extends the shelf life of baked products and adds that extra special something, such as taste or texture to other products."
Bryson's year as American Honey Queen ends in January when she will crown the next queen at the American Beekeeping Federation's annual conference in Las Vegas.
Bryson is a junior at Hagerstown Community College, Hagerstown, Md., where she is double-majoring in English and forensic science. She is a member of the National Honor Society and has been on the dean's list for the last two years.
A 4-H member for 10 years, she serves as a leader for two clubs. Bryson has kept bees for three years, and manages five hives in her family's apiary. In her leisure time, she said she enjoys reading, sewing, and caring for the many animals on her family's small farm. She is the daughter of Tom and Linda Bryson of Chambersburg, Pa.
Fishback, a volunteer at the Harry H. Laidlaw Jr. Honey Bee Research Facility at the University of California, Davis, owns and operates BD Ranch and Apiaries, Wilton. He manages 50 hives.
(Editor's Note: Teresa Bryson and Brian Fishback will be featured on Good Day Sacramento on Saturday morning, July 16, 2011)